The second prize as most popular immigration country goes to Germany!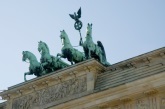 A recent study from the Organisation for Economic Cooperation and Development (OECD) reveals that Germany is straight on the heels of the United States as most popular destination for migrants. In search of professional opportunities jobseekers from central, eastern and southern Europe pour into Germany.
Already by 2012, the amount of migrants increased up to 38 %. During the last years, Germany has been gaining more and more attractiveness. Not least as German economy managed to survive the financial crisis of 2008 relatively well and could recover from it quite soon, as well.
For years, Germans had opposed immmigration to their country in such dimensions. Yet, finally having realized that German population is about to age and shrink, they have changed their mind at the latest. Predictions claim that by 2020 the number of persons in work is likely to be 1.5m less without recruiting the necessary qualified employees from abroad. German economy might have a high price tag so that since 2000, immigration of qualified workforce from Europe is highly advocated.