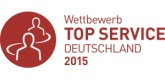 Honored for outstanding customer orientation: For the sixth time in a row ICUnet wins the award "TOP SERVICE Germany 2015".
With outstanding customer proximity and service quality ICUnet.AG convinced in the competition for the best service providers as the first company for the sixth time in a row. The medium-sized consulting company ranks among the leaders in the competition "TOP SERVICE Germany 2015". Catchphrases like quality, best-in-class service as well as innovation explain the more than 40 prices that make ICUnet.AG the most awarded company in its sector.
ICUnet.AG's customer orientation – sustainable service instead of one-hit-wonder
In the competition for the top 50 of the most customer-oriented service providers, ICUnet.AG convinced again this year and is rewarded with the prize "TOP SERVICE Germany 2015". The jury, which consists of the consulting company ServiceRating, the Handelsblatt and the University of St. Gallen, was impressed by the absolute customer orientation. "ICUnet.AG's innovative and personal customer orientation impressed the jury this year again. ICUnet.AG made it for the sixth time – a strong performance! We are happy if an award winner in our competition does not remain a one-hit-wonder but stays sustainably successful," says Eric Hommel, Service Rating. The competition which ran under the title "Germany's most customer-oriented service provider", takes place every year and awards prizes for the company's outstanding service readiness.
For the sixth time in a row, ICUnet.AG ranks among the best regarding customer orientation. The client's individual best interests as well as quality and satisfaction are of great importance. By this, sustainable customer proximity is achieved – a significant factor when it comes to service. The award ceremony again took place in Cologne's "RheinEnergie" stadium on April, 28th. Like usually top athletes take their cup and celebrate their success, the prize winners entered the field.
Successful since 14 years
Since the foundation by Dr. Fritz Audebert 2001, the family-run medium-sized company has been regularly awarded prizes for special customer orientation, innovative concepts, diversity and quality. The intensive relationships to the more than 350 customers are of particular importance, as Dr. Fitz Audebert emphasizes: "We care a lot about the intensive relationship to our customers. We see us as conversation and sparring partner as well as service provider for our valued customers."